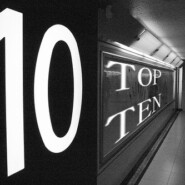 Top Ten Filming Locations Worldwide
from: P3 Staff, P3update.com –
As filmmakers prepare to visually tell their stories, they first travel to a variety of locations to study landscapes, infrastructure (which includes soundstages, production space and crewmembers) and travel-to-lodging logistics. While these are all key components for a successful production, the biggest factor is always the budget. A production's financial concerns are the reason why film commissions and government agencies work very hard to expand the development and growth of any given territory.
New production communities are emerging across the globe as swiftly as technology is changing content creation, with the Internet and the world's demand for quality programming. While television mainly produces half-hour comedies in California, many one-hour dramas are migrating out of state to take advantage of strong financial incentives. A host of top-notch TV shows have found production homes outside of Los Angeles, including Homeland (North Carolina), Game of Thrones (Iceland), Breaking Bad (New Mexico) and Boardwalk Empire (New York). Major Hollywood studios are making fewer feature films while focusing on television and gaming projects, VFX and postproduction, and this has created a push for jurisdictions around the globe to step up incentive programs to attract new business. With the help of location-savvy companies like Entertainment Partners, P3 Update has researched the global locations that are today's top competitors when it comes to attracting film and TV productions.
There are currently 42 U.S. jurisdictions and 32 foreign jurisdictions offering production incentives, and the locales with consistent laws, funding, infrastructure and favorable exchange rates consistently attract more producers and productions each year. "Anyone who believes that there is stagnation with regard to motion picture incentive programs is not considering the landscape, as there is a lot of positive activity around the globe for filmmakers," says Entertainment Partners Senior VP Joseph Chianese. "Incentives will always change, but they're not going away. Even during this past legislative session we noticed negative changes to the incentive programs in certain regions, positive changes in some, and new incentive programs being born in others."
With so many worthwhile incentive programs up for grabs around the world, here is P3's list (in alphabetical order) of the top production locations in 2013.
CALIFORNIA
The competition for production in California in 2013 is fierce. While Governor Brown is supportive of the film industry, having extended the current incentive program through June 30, 2017, the state may not keep its title as a production leader without additional funding. A recent report from the California film commission points out that the state's five-year-old program annually provides $100 million in tax credits, which is not enough to compete with programs in other states. According to the report, while the modest tax credit program has had an ameliorative effect in retaining some production spending, California continues to experience a "pronounced erosion" of this signature industry.
For the moment, Hollywood's iconic filmmaking history has allowed California to stay competitive, as the state houses a plethora of major film and television studios and has the finest infrastructure for making world-class cinema. In-state productions can also rely on major government support and the assistance ofFilm Liaisons In California Statewide (FLICS), a nonprofit organization of regional film commissions focused on promoting and supporting California's film and television industry. The Golden State's gold standard of stunning locations, weather and infrastructure are also why California is still one of the world's leading production centers. From Los Angeles to San Francisco to the Yosemite woods, Palm Springs desert and everywhere in between, California offers a wide range of flawless scenery that can meet the demands of any production.
CANADA
Canada's film and television industry is flourishing. With its stunning natural wonders, like seascapes, forests, lakes, rivers, beaches and snow-capped peaks, it's not surprising that this country keeps attracting projects galore. Canada has film commissions for different providences and regions, and the country's visual-effects and special-effects houses are world class.
Alberta is well known for having a mix of production expertise, superb locations and financial advantages that can benefit any film and television project. Through the Alberta Media Fund (AMF), producers can utilize a variety of grant programs and tax credits aimed at supporting the specific needs of their projects. Alberta also offers a 15,000-square-foot soundstage and underground tank at Edmonton's Film Alberta Studio, a number of standing sets, and state-of-the-art postproduction facilities. Alberta Film works extensively to assist the needs of visiting productions while maintaining a strong relationship with the local industry. The province has a sturdy foundation of experienced and skilled local professionals who can meet the demands of small and large productions alike. Projects shot in Alberta include the recently released film Metallica Through the Never (starring Dane DeHaan), the upcoming Christopher Nolan sci-fi Interstellar(starring Matt Damon, Jessica Chastain and Matthew McConaughey), Forsaken (starring Demi Moore), The Right Kind of Wrong, The Young and Prodigious T.S. Spivet, and the TV series "Bones," "Blackstone," "Hell on Wheels" and "Heartland."
British Columbia is one of three Canadian providences that heavily contribute to the country's thriving film/TV industry. Recent B.C. film productions include Tim Burton'sBig Eyes (starring Amy Adams and Christoph Waltz), Godzilla and Percy Jackson: Sea of Monsters, and TV shows shot in the province include "Witches of East End," "The Tomorrow People," "Falling Skies" and "Once Upon a Time." These projects were undoubtedly lured by British Columbia's tax credits, which offer a fully refundable rebate on qualified labor expenditures. Provincial rates start at 33 percent and can increase depending on where in the province a production shoots and if digital animation and visual effects are part of the project. And B.C.'s vast geography gives filmmakers the diverse world of looks as it can double for most anywhere, including Shanghai, New York and Afghanistan.
Filming in Ontario is headed by the Ontario Media Development Corporation (OMDC), which has done a tremendous job reeling in productions and expanding the province's television and film business. Recent TV series shot in Ontario include "Suits," "Beauty and the Beast," "Covert Affairs" and "Hannibal." This growth in production was partly made possible by the Ontario Production Services Tax Credit (OPSTC), which has been recently enhanced: It's now a 25-percent credit that covers all eligible Ontario spending on film and television productions. The federal government offers an additional tax credit of 16 percent on Canadian labor expenditures that can be bundled with the OPSTC for even more savings. There's also the Ontario Film and Television Tax Credit (OFTTC), which is a 35-percent credit for domestic and certified international treaty film and TV productions.
Quebec is another scenic Canadian province that attracts many film and TV projects. Its borders run around the northern tip of the Arctic, down thousands of miles of the rugged Atlantic coastline, and along the mighty St. Lawrence River. The province offers 25 percent cash-back on all expenses, as well as a 20-percent bonus on all CGI and green-screen shots applicable on extended eligible labor. There is no minimum spend and no cap on these incentives. Recent feature film projects shot in Quebec include White House Down, Red 2 and X-Men: Days of Future Past.
GEORGIA
Georgia continues to rev up the competition by continually attracting TV shows and major motion pictures. In 2013, the state has hosted the films The Hunger Games: Catching Fire, The Internship, The Watch and Tyler Perry's Single Mom's Club as well as the TV hit "The Walking Dead." The state has a 20-percent transferable tax credit with a 10-percent Georgia Entertainment Promotion logo uplift that provides a comfortable cushion for productions shot in the state. Georgia also offers a strong crew base while Pinewood Studios builds its state-of-the-art soundstages to take advantage of the influx of production.
The CW series "The Vampire Diaries" and its vampire genre spinoff "The Originals" will both film in Atlanta to benefit from the state's tax rebate and talented crews. "We have a family that we've created in Georgia over the last four years with 'The Vampire Diaries,' and a system that works really well for us," explains Executive Producer Julie Plec. "We have crewmembers that can work on both shows. It was important to us to launch the [new] show putting our best foot forward from both a production standpoint and a comfort level." With more than 5,000 union and nonunion professionals; an array of soundstages and postproduction facilities; and the very positive production support team at the Georgia Film, Music & Digital Entertainment Office, Georgia is clearly on a roll as a mainstay as one of P3's top-10 locations.
ICELAND
If you're looking for spectacular locations, Iceland definitely tops the list. The iconic heroes James Bond, Batman and Judge Dredd have all tackled high-stakes action in this scenic country as part of the many big-budget feature films that shoot here. Iceland also offers a 20-percent incentive, which is a reimbursement for film and TV production costs incurred while on location. In addition to hosting movies, the country often welcomes some of today's leading television shows, such as "Game of Thrones" on HBO. "For the far northern locations of 'Game of Thrones,' we wanted something shatteringly beautiful, barren and brutal," explains HBO Films' Senior VP of Production Janet Graham Borba on Iceland's film commission website. "In Iceland, we found all of that, as well as a highly professional production crew."
Iceland has developed a modern infrastructure and offers all the advantages of city, like gourmet restaurants, cultural venues and shopping, as well as tremendous natural beauty and a vast wilderness. "Iceland was a perfect fit," says Joe Kosinski, the director of the sci-fi adventure Oblivion. "At the height of summer, there are 22 hours of daylight, which was conducive to a productive filmmaking day. The landscape looks like no other place on earth. We shot on Earl's Peak, a mountain in the middle of Iceland [where] there is a glacier on one side and a black-sand desert on the other. It was one of those experiences that you dream about as a director, going to places most people have never seen and being able to capture it all in camera. There's a unique beauty in the landscape there that fit the aesthetic I wanted for Oblivion." Another big draw for Iceland is its long daylight hours and close proximity to Europe and the United States — it takes less than five hours to fly to Iceland from New York.
LOUISIANA
Louisiana's entertainment department continues to grow with extended film offices in cities like Baton Rouge, Jefferson and Shreveport, so it's no surprise that filmmakers keep returning to the Bayou State. Its production-friendly infrastructure features diverse locations, including big cities, stunning plantations homes, wetlands, swamplands and prairies. There are also state-of-the-art soundstages, postproduction houses and a skilled crew base that has grown by more than 400 percent since 2002.
As the creators of the FX hit "American Horror Story: Coven," Ryan Murphy and Brad Falchuk try to create a new story setting for the show every season. The sexy, scary drama has found a home for its third season in New Orleans. According to Director Alfonso Gomez-Rejon, who will be on location for the entire season, the production is being shot in the French Quarter as well as on historic plantations and other Louisiana locales. "New Orleans is unique in this country," says Jessica Lange, the show's Emmy-winning star. "It has a power, authenticity and a sense of history. The people there live in the past and the present, so there is something about New Orleans that is going to inform all our characters, our story, the writing [and] the look of the place. It's inescapable." Louisiana's up-to-35-percent transferable tax credit is the most reliable incentive in the country, as it consistently attracts film and TV projects to the state. In fact, Louisiana just beat out Vancouver to grab the Fox big-budget action film The Fantastic Four. Other productions choosing to lens in Louisiana include 12 Years a Slave, Pirates of the Caribbean: Dead Men Tell No Tales and Dawn of thePlanet of the Apes.
www.louisianaentertainment.gov
MASSACHUSETTS
The Commonwealth of Massachusetts offers producers an abundance of options, such as its gorgeous seashore, pristine mountaintops, architecture ranging from the 1600s to futuristic, and so much more. The state's biggest news is the opening of New England Studios. As the first state-of-the-art television and film studio in the New England, the facility features four 18,000-square-foot soundstages as well as production offices, mill and storage building that all encompass 126,000 square feet. There are also additional acres of land available for outdoor builds, all just 29 miles outside of Boston.
Massachusetts has a very competitive film tax incentive program consisting of a 25-percent payroll credit, 25-percent production credit, and a sales-tax exemption. Credits are transferable or may be refunded at 90 percent of value remaining after satisfying tax liabilities. To qualify for the payroll credit, production companies must spend a minimum of $50,000 in Massachusetts. For the production credit and sales-tax exemption, productions must spend more than 50 percent of total production costs in Massachusetts or have at least 50 percent of the total principal photography days take place in-state. Managed by the Massachusetts Department of Revenue, the incentive program has no credit limits, and the current sunset date is January 1, 2023.
Feature films recently shot in Massachusetts include David O. Russell's upcoming American Hustle, The Equalizer (starring Denzel Washington), The Judge (starring Robert Downey Jr.), Basic Math (starring Cameron Diaz) and Grown Ups 2. Television series include the Emmy-winning Hatfields & McCoys,Terminales, The Makeover, Clear History and the HBO miniseries Olive Kitteridge (starring Francis McDormand). "[Massachusetts] was the perfect fit due to the user-friendly scenario the state and, in particular, the City of Boston created for us," says American Hustle Executive Producer George Parra. "The crew base and tax incentive was the initial interest, followed by fantastic locations that fit our script. Having been my second film there in two years, the experience once again was fantastic. I plan on returning as often as I can. It is a very collaborative experience with the city and the crews, a solid 10 out of 10 in my book."
NEW MEXICO
New Mexico's tremendously diverse geography contains a plethora of film location options, everything from ski resorts and deserts to urban settings, vast open expanses and incredible western sets. Over the past year, an impressive lineup of films have lensed in the state, including Lone Survivor (starring Mark Wahlberg), The Lone Ranger, Sweetwater, 50 to 1 and Enemy Way.TV projects include the series "Breaking Bad," "Longmire," "Cosmos: A Space-Time Odyssey," "Killer Women" the TV movie The Night Shift. A major draw for these productions is Albuquerque Studios, which offers filmmakers infinite possibilities. "The studio features some of the largest and most technologically advanced soundstages in the world, including the tallest soundstages in the world outside of Southern California, along with modern office and support space, a vast backlot, equipment rental and technology, and friendly, full-service support, including our exclusive studio concierge service," says Matthew Rauchberg, the Studio's senior VP of business development. "In short, [Albuquerque Studios has] everything a producer could need."
For over 10 years, New Mexico has been in the forefront of the incentive business. The state's current Refundable Film Production Tax Credit is a 25- or 30-percent tax incentive on all qualifying direct-production expenditures for TV series with an order of six or more episodes (when the New Mexico budget for each episode is at least $50K). Features utilizing qualifying soundstage facilities for at least 10 days of principle photography may also qualify for a 30-percent credit on resident crew wages and fringes for the entirety of an in-state production. All other of types of qualifying projects and expenditures for services rendered in-state and subject to state taxation qualify for a 25-percent tax credit, which is a refund in the form of a check or deposit (it's not a transferable or assignable credit).
NEW YORK
New York has solidified its status as one of the leading production region in the world. The state is thriving with TV projects and is well known for its creative professionals, such as the New York State Governor's Office for Motion Picture and Television Development. Many of the recent Emmy Award winners and nominees are for New York-based productions, such as "Nurse Jackie," "30 Rock," Boardwalk Empire,"
"Saturday Night Live," The Colbert Report" and "Project Runway." The state has tons of stages, studio space and postproduction facilities, with some meeting the requirements for the New York State tax-credit program.
Governor Andrew Cuomo is extending the current 30-percent below-the-line tax-credit program through 2019 with an additional $2.1 billion in funding, showing just how serious he is about keeping New York busy. This gave way to further enhancements, most notably a 10-percent credit to film outside New York City's metro area in specified counties in Upstate New York (beyond Albany). This can bring the state's refundable tax credit for film production up to a whopping 40 percent. And if that's not enough, Empire Visual Effects will create 150 new visual effects and other postproduction jobs in Buffalo within five years' time. With all these perks, it's no wonder that The Amazing Spider-Man 2 chose to shoot in New York State.
NORTH CAROLINA
North Carolina's 25-percent refundable tax credit program recently remained safe from a far-reaching rewrite of the current tax code. As the program stands, the state continues to attract popular television productions, like "Revolution," "Under the Dome" and "Homeland," and feature films like Iron Man 3, We're the Millers and Safe Haven. Filmmakers can find a variety of studio options in North Carolina to suit most production needs. The Wilmington-based EUE/Screen Gems is one of the country's largest studio complexes with 10 stages, while Charlotte, Asheville, Raleigh and areas surrounding Greensboro and Winston-Salem also offer soundstage options for visiting filmmakers.
UNITED KINGDOM
Some of the most impressive film and TV projects wear the prestigious "Made in the U.K." seal. The infrastructure in the U.K. is the backbone to the success of the industry, including highly knowledgeable and experienced teams of players. Its 20-to-25-percent refundable tax credit has been so successful with feature films that it has been expanded to allow high-end television and animation projects to also qualify. The U.K. is also looking to further expand its visual effects sector, which is flourishing alongside the U.K.'s many studios, including Pinewood, Shepperton and Three Mills. Known for blockbuster projects, like Fast & Furious 6 and Prometheus (which were both born in the U.K.), the country recently nabbed the sci-fi Edge of Tomorrow (starring Tom Cruise) and Disney's highly sought-after Star Wars: Episode VII.
"The British Film Commission, alongside government and our industry colleagues, have worked hard to make sure [the Star Wars] project came to the U.K., and we look forward to continuing to collaborate with Lucasfilm throughout the production so they can utilize everything the U.K. has to offer," says Adrian Wootton, chief executive of the British Film Commission and Film London. "Helping to secure an inward investment project of this size is exactly what the BFC is here to do, and [the Star Wars project] is a great success story. It is an indication of how well regarded our talent and facilities are across the globe and testament to the government's ongoing commitment to ensuring the U.K. is a world center for the production industries."
www.britishfilmcommission.org.uk
Honorable Mention
It's quite a challenge to create a top-10 location list when so many locales have so much to offer. Here are several more regions currently making big waves in the film and television industry.
Abu Dhabi 
offers a 30-percent cash rebate and vibrant scenery unlike anywhere on earth. Feature film projects shot in Abu Dhabi include The Bourne Legacy and The Kingdom.
Connecticut
 has a 10-to-30-percent transferable film-production tax credit program, and its digital-animation production tax credit remains strong, which is useful for the studio films Rio 2 and Epic. Recent TV projects include "NBC Sports" and Showtime's "The Big C."
Dominican Republic
 offers a 25-percent transferable tax credit that will surely become more popular with the opening of the state-of-the-art Pinewood Indomina Studios.
Florida
's 20-to-30-percent transferable tax credit is so successful that the $296 million allocation is already committed to future productions as an MPAA economic study shows a 4.7 ROI for the program. Recent projects include Dolphin Tale 2 and TV's "Burn Notice" and "The Glades."
Hawaii
 offers a 20- or 25-percent motion picture, digital media and film production income-tax credit. Recent Hawaii productions include Godzilla and the CBS series "Hawaii Five-0."
Maryland
 currently has a 25-percent film or 27-percent television refundable tax credit. Recent Maryland projects include Netflix's "House of Cards" and HBO's "Veep."
Michigan
 offers an up-to-35-percent cash rebate and locations that include urban, suburban, rural, historic, modern and gritty settings. Recent projects include "Low Winter Sun" and feature films, likeTransformers: Age of Extinction, How to Catch a Monster, Need for Speed and Division 19.
Pennsylvania 
offers a 25-percent tax credit for film projects that spend at least 60 percent of their total production budget in the Commonwealth.
Texas
 has an up-to-29.5-percent grant program that has kept new Film Commissioner Heather Page busy with applications. Recent Texas productions include Paramount's Transformers 4 and NBC's "Revolution."
Utah 
offers a 20-percent tax credit for approved productions spending a minimum of $200,000 in-state, and a 20- or 25-percent tax credit for projects spending a $1,000,000 or more. The state's tax credit has no per-project cap.