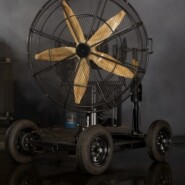 Wizards are Real…
from: FilmWorksLA.com –
For millions of people around the world, magician Criss Angel is considered a wizard for his jaw dropping illusions.  Alas, Angel is not a real wizard endowed with magical powers.  But this is not to say you shouldn't believe in wizards and magic.  We do, and they work in Los Angeles.
Last week, Film Works staffers met a real-life wizard based right here in Hollywood.  His name?  Thaine R. Morris, owner of Roger George Rentals.  As it happens, Morris' credits include many of the special effects and pyrotechnics created for Criss Angel's "Mind Freak."  But in grand Hollywood fashion, the real wizard is not on stage, he is behind the curtain.
 Morris is a decades-long Hollywood veteran.  To his everlasting fortune, he was one of the talented industry workers who went to Northern California in the late 1970′s and early 1980′s to join a then-unheard-of start-up company called Industrial Light and Magic (ILM).  At ILM, Morris fine-tuned his special effects and pyrotechnic abilities and expertise while working on, as he says it, "a little film called The Empire Strikes Back."  If that had been the only movie Morris ever worked on, it would still be an achievement.  But the list of movies Morris has worked on since The Empire Strikes Back is breathtaking.
Name almost any of the biggest blockbuster films made in the last 20 years, and chances are Morris worked on it.  The biggest blockbusters usually demand the biggest effects, and people like Morris found themselves in high demand because of the special effects industry they helped revolutionize.
"If it's impossible, dangerous or stupid, they come to us," Morris notes.
One person attracted by the work Morris and his colleagues were doing at ILM was Roger George.  George saw an opportunity to bring the pyrotechnic equipment and techniques Morris helped build to the Hollywood studios.  The major studios were dazzled and Roger George Rentals was born.
 More than 30 years later, Roger George Rentals is now the largest and perhaps most renowned special effects rental and supply house / manufacturer in the nation.  Morris, who had a close relationship with George from the beginning, went on to purchase the company about 15 years ago.  Roger George Rentals is best known for its high powered fan units, which are designed and manufactured at the company's facility located in Van Nuys.  In addition to the fan rentals, Roger George Rentals also offers a full range of physical effects equipment, much of which is manufactured in-house.
In rare reversal of fortune, Roger George Rentals has also been able to benefit from runaway production, albeit unwillingly.  Because the company is one of the only businesses in the world that builds and rents the high-powered fan units used in the entertainment industry, any production shooting in another state or nation must rent the massive fans from California.  Morris told Film Works that a production shooting in L.A. will typically pay a daily rate of $400 to rent a single fan unit.  But for a project that needs a fan unit in Louisiana, for example, the cost will be much greater.  Each fan leaving California must be crated, which requires additional labor, and shipping to Louisiana takes roughly three days in each direction.  Thus, using a high-powered fan in Louisiana for one day of shooting will cost the production about eight days worth of L.A. rentals.  The $400 cost in California balloons to $3,200 in Louisiana.  Morris is happy for the extra money he earns from shipping out of state — in fact, he used it to hire four additional employees last year — but he still shakes his head at the foolishness of wasteful spending.
 Morris' personal fight to keep filming in California goes back more than a decade. With three adult daughters who work in the industry, he and his wife Elizabeth continue to put a lot of effort into keeping production in California.  Shortly after they purchased Roger George Rentals in the late 1990′s, runaway production fueled by film incentives pioneered in Canada was beginning to have an impact on California.  The pair noticed a proliferation of anti-Canadian bumper stickers and thought something was missing.  As a result, Roger George Rentals began printing and distributing bumper stickers that read: "California Film Crew…When You Want the Best."  Roger George Rentals has also been a supporter of Film Works, and has purchased Film Works baseball caps for all of its employees and distributed hundreds of bumper stickers.
 But fighting runaway production takes more than hats and bumper stickers.  It takes much more, and once again, Thaine and Elizabeth have a record of stepping up to the plate to protect California's heritage industry.
When the owners of local shop Creative Effects decided to close down and retire, Morris moved decisively to purchase their equipment and supplies.  Similarly, when Tri-S Sciences closed shop after its founder Ira Katz passed away,  Morris moved swiftly to purchase the operation.  According to Roger George Rentals foreman Edward Romero, the primary motivation was to prevent the equipment and know-how from being purchased and relocated to another state or nation trying to compete with California's film industry.
"He [Morris] didn't want someone in a place like Louisiana to get their hands on [the equipment], he wanted to keep it here where it belongs," said Romero.
We couldn't agree more, Edward.  Film Works best in California, and we thank Thaine, Elizabeth and everyone else on their team for doing their best to keep filming here.